"We need a better way of living for the music scene."  Axel Mueller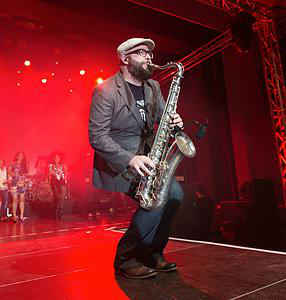 In this episode of MFM Speaks Out, Adam Reifsteck interviews German saxophonist and composer Axel Mueller about his work as a musician and activist which led to co-founding a new union in Germany called Pro Musik that supports freelance musicians. Topics discussed include the challenges gigging musicians face in Germany that has only been exacerbated by the pandemic and the importance of coming together as a community to enact social and political change that uplifts the livelihood of all professional musicians.
Saxophonist & multi-instrumentalist Axel Mueller enjoys a varied career as a composer, arranger, and sideman for top artists in Germany. A graduate of Mannheim University of Music, he started the brass band Blassportgruppe with 9 other wind colleagues and began touring Europe with the cabaret act The Les Clöchards. In addition to touring, Axel plays in the horn section of the TV show Sing mein Song with the band Grosch's Eleven, now in its 5th season, with artists such as Xavier Naidoo, Roger Cicero, Sarah Connor, Yvonne Catterfeld and Samy Deluxe & South African Sunset. Together with his brass colleagues Johannes Goltz (trombone) and Christoph Moschberger (trumpet), Axel has led the horn section for renowned artists such as Nena, Wolfgang Niedecken, and Mark Forster, which has resulted in 8 Gold and Platinum releases.
Visit Axel Mueller at axelmuellermusic.com
Visit Pro Musik at promusikverband.de 
The following music is featured in this episode:
Opening track: "Mudflat Mood" by Axel Mueller featuring Chris Nemet (keyboards) and Hendrik Lensing (drums)
Middle track: "Toch Wood" composed and performed by Axel Mueller
Ending track: "Mr Rusher" by Axel Mueller featuring Chris Nemet (keyboards) and Hendrik Lensing (drums)