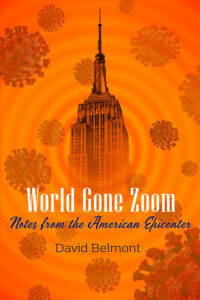 Author: David Belmont
Titel: World Gone Zoom – Notes from the American Epicenter
Publisher: The Poetry Box
Buy here: https://thepoetrybox.com/bookstore/world-gone-zoom?mc_cid=390686209d&mc_eid=88475f6457
Book Review by Dawoud Kringle
The fact that musicians also delve into other art forms is nothing new (Miles Davis and Yusef Lateef were painters, for example). So, in May 2021, when David Belmont released a book of poetry titled World Gone Zoom, it was clear that another dimension of a talented musician was brought to the light of day.
David Belmont is a guitarist/composer/producer based in New York City. He first came to prominence in the early 1970s with NYC acid rock band Charley Quasar. Over the years, his work spanned a broad range of genres from lush ambient soundscapes to jazz/rock-based world fusion to angular avant garde jazz. Holding the title of vice-president of MFM, he also plays with SoSaLa (and performed on their new CD release), has credits in film soundtracks, and co-leads Live Music Continuum workshops with Mary Abrams of Moving Body Resources.
The introduction of the book began with a somber mood. Belmont described his personal experiences at the very beginning of the COVID-19 pandemic. Summing up the cloud of dread that gripped people at that time, he ended the introduction of his book saying "Before we finished our muffins, Governor Andrew Cuomo had closed Broadway and all other indoor venues that seated more than 500 people. I had tickets to see Nathaniel Rateliff at Town Hall that evening. Still do."
Belmont's 60s/70s upbringing is all too evident in his choice of quotes he often used at the beginning of his poems. Each one skillfully married two separate contexts. And Belmont's perspective as a New Yorker is inescapable. The poems themselves eloquently describe the mood that prevailed in New York City during this dark time. Many of the poems read as diary entries (complete with specific dates).
The pandemic was a truly bizarre time, and in New York City, it took on strange contours. Overnight, lives were upturned and changed to do battle with a worldwide pandemic, while political turmoil, fueled on both sides by a corrupt, inept, and tyrannical president, threatened to (at least in theory) start a civil war. Nobody who was there will forget the fear, apprehension, loneliness, malaise, and complete sense of disconnection and unreal isolation (no pun intended) of those days. COVID-19 in the densely populated and uniquely iconic culture of the Big Apple was a time where we faced a dark side of ourselves, and also our light side.
To quote John Lennon, "Strange days, indeed."
One of the poems, "Americans in Conversation," makes an interesting point. The pandemic has changed us. It changed our lives and culture. And while things are opening up and people are out socializing and conducting their affairs, there is no going back. "Normal" has changed forever, and so have we.
Belmot's poetry captures, and preserves, not only an historical, but a visceral record of the emotional state and zeitgeist of that time.