On Monday July 18th, 2022, MFM hosted the latest Music is Essential ZOOM webinar: "Bass: The Joys of the Bottom Line" Special guest speakers were bassists Jerome Harris and Randy Landau .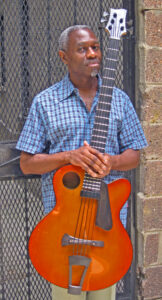 Jerome Harris first major professional performing experience came as bass guitarist with the iconic jazz saxophonist Sonny Rollins in 1978. Harris has played on over seventy recordings and performed on six continents, working with Jack DeJohnette, David Krakauer, Bill Frisell, Paul Motian, Leni Stern, Martha Redbone, Ray Anderson, Julius Hemphill, Amina Claudine Myers, Ned Rothenberg, Oliver Lake, and many others.
He has taught at Hampshire College, William Paterson University, Lehman College (City University of New York), and the Alternative Guitar Summit Camp. Harris is also a music activist functioning as MWA's President and has been a member of Local 802 for a while.
Randy Landau has been free lancing, for the most part, in NYC since 1978.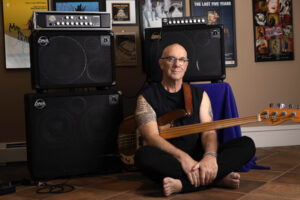 He has worked with Chuck Berry, Paul Anka, David Ruffin, Eddie Kendrick, Loretta Devine,Patti LaBelle, James Taylor, Bette Midler, Dave Stewart, Kelli O'Hara, Anika Noni Rose, to Larry Coryell, L. Subramanium, Gary Burton, and New York Voices. Randy's many Broadway and national-tour credits include The Bridges of Madison County, First Date, Ghost: The Musical, Billy Elliot: The Musical, High Fidelity, In My Life, Spamalot, Legally Blonde, Man of La Mancha, Bombay Dreams, Rent, City of Angels, Aida, and many more. Landau has played on all the cast recordings of Jason Robert's band's Songs For A New World, and The Last 5 Years. He released two solo albums, Wearing Someone Else's Clothes, and How We React and how We recover. Randy's next collaboration with JRB will be The Connector, which will have its debut in winter of 2023. He is also playing with the local Orchestral bass chair for The Who, and beginning a production of Tom Kitt and Cameron Crow's Almost Famous, opening on Broadway fall of 2022. Landau is also a member of MFM and of the Local 802.
The event was hosted and moderated by Adam Reifsteck.
After introducing the speakers, Harris and Landau spoke about their musical beginnings and how they entered their professional lives. This led to a dialogue concerning the realities of being a professional bass player.
A great deal of discussion was devoted to the role of the bass player in a musical environment. Needless to say, there is a lot that can, and must, be considered in this. Harris and Landau shared the kind of expertise that can only be acquired through decades of experience.
Harris said something very interesting: "I love the cultural service of being a bass player." This was one of those aphorisms that can inspire a great deal of discourse. It also defines the heart and soul of the bass.
As the discussion progressed, Landau and Harris offered several examples of masterful bass playing by master bassist James Jamerson.
Questions were taken from the participants. This set up the speakers to explore the heights of their knowledge. At one point, Harris played Acknowledgment, from A Love Supreme by John Coltrane, and offered an analysis of Jimmy Garrison's bass work. This opened more philosophical floodgates (which included Roger Blanc bringing up the characteristics of the Fender Precision bass vs. Jazz bass, playing styles, etc). Ultimately, the talk was a truly remarkable exploration of the real nature of the bass.
At this point, it would be difficult, and perhaps redundant, to detail the fascinating and labyrinthine exploration of the bass, its place and possibilities in music, bass instruments and technology, and the cultural aspects of the bass. The reader is recommended to watch the video of the webinar (https://youtu.be/qL5klLQGPFY ).
It is also highly recommended to join and participate in MFM's "Music is Essential" talks. The series is bringing a wealth of knowledge to the music community.