Text and photos by Fiona Mactaggart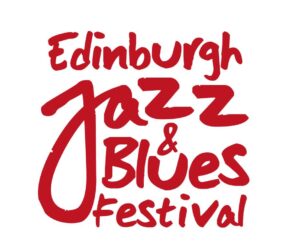 This year's lavish, multi-venue, ten-day juggernaut of an Edinburgh Jazz and
Blues Festival (EJBF) opened with a bang, with a 'Mardi Gras' in Edinburgh old
town's Grassmarket and an Edinburgh Festival Carnival along the beautiful,
new town Princes Street getting the party started over the first few days. EJBF
has now screeched to a halt while some other festivals Edinburgh is famous for
have taken off, and it feels timely to reflect on some of this year's jazz festival
offerings.
Bigger than ever this year, EJBF encompassed a wide range of jazz and blues
and prompted the feeling that there may have almost been as many bands
coming from overseas as from within Scotland itself.
Morganfield and Davina and The Vagabonds performed to audiences that
were clearly delighted to once again experience quality live music. Post-Brexit
it was also a particular pleasure to welcome a cohort of European Union
guests, such as novel, post-jazz Belgian De Beren Gieren and, in partnership
with I-jazz and the Italian Institute, several Italian bands such as commanding
pianist Fabio Giachino, also accomplished drummer Francesca Remigi with her
modern jazz quintet-with-a -social-conscience, Archipélagos.
As ever however, the core of EJBF was the Scotland-based bands, many of
whom have over the last three years had more obstacles to surmount than
usual in order to be able to perform regularly. However, one positive has been
that EJBF, like many other festivals, has now developed a greater expertise
with live streaming, so that this year there were a good number of streamed
performances.
With too many highlights to mention, the risk of a short article is leaving out so
many bands that deserve mention, so I shall focus mostly on those shows that I
was able to attend.
This year it was noticeable that there were quite a number of exceptionally
talented female creatives, such as vocalists Seonaid Aitken who presented a
big band tribute to Ella Fitzgerald, Scottish Jazz Awards 2021 Best Vocalist
Marianne McGregor, Joni Mitchell- inspired Rachel Lightbody, New Orleans
and Nina Simone – channeling Ali Affleck and dissimilar emerging stars kitti
and Georgia Cécile – all of whom, if life is fair, should become big names in and
beyond Scotland in years to come. As regards top quality female
instrumentalists, BBC Masterchef finalist and saxophonist Laura MacDonald
and trombonist Anoushka Nanguy deserve particular mention.
Perhaps in part because of its size Scotland has a history of jazz- roots cross-
over, with many musicians highly ept in each and in melding the two.
Accomplished pianist David Milligan and Shetlander trombonist Norman
Wilmore presented a truly gorgeous mixture of Scottish roots/jazz, while
relative newcomer Latin jazz quintet SCuba had a standing ovation with their
uplifting brand of mostly Cuban jazz.
Scotland is bursting with young jazz and blues talent these days. Drummer
Graham Costello with his band Strata, pianist Alan Benzie in quintet with his
tribute the Head Hunters, pianist Fergus McCreadie, unusually for him in large
ensemble and bassist Brodie Jarvie's Fine Men With Foul Tongues, all delivered
simply outstanding performances.
Meanwhile capturing the dance/ club crowd was drummer Stu Brown's
MNDMTH, collaborating with rapper MistaFaz and extrovert improvising
saxophonist Harry Weir. Really great stuff and not for the faint-hearted.
It was a real treat to have two 'veterans' of Scottish jazz at this year's EJBF:
esteemed guitarists Jim Mullen as well as former Average White Band's
Hamish Stuart who performed in his eponymous band and in James Brown is
Annie, both to highly appreciative audiences.
Two saxophonists deserve special mention: Brian Molley who in quintet played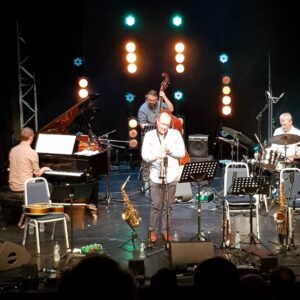 his beautiful arrangements of Getz and Byrd's Jazz Samba; and Martin Kershaw
who in octet presented his own works that had been inspired by particular
poets, including an extended piece commissioned by EJBF.
Finally, a place for those learning jazz and blues music is increasingly being
found at jazz festivals. Thus, this year saxophonist Tommy Smith presented
some European young jazz ensemble concerts, impressively all entirely
improvised, while saxophonist Sue Mackenzie presented Edinburgh Napier
University Summer School concert. And perhaps one of the most important
events at this year's EJBF was her series of fun workshops for pre-school and
primary school-age children Jazz for Kids: hopefully much more of this next
year!
Brief live reviews of some of these gigs are on my website, Scottish Jazz Space:
Dave Mlligan and Norman Willmore
Alan Benzie tribute to the Headhunters
Brian Molley Quintet play Getz and Byrd's Jazz Samba