Musicians For Musicians (MFM) Presents: "Music Is Essential" ZOOM Talk Event #8 with MFM Members Arturo O'Farrill and Zack O'Farrill Speaking on the founding, current work, and vision of the Afro Latin Jazz Alliance, Arturo's activism, and the intertwined histories of latin music and jazz.
Date: Friday, December 16, 2022
Time: 5pm to 6:30pm (ET)
Venue:  ZOOM
Ticket: free
Please register here: https://us02web.zoom.us/meeting/register/tZIpdO-trzorHNSF2dK3NhLOBqcTVRYHmvKz
Webinar description:
The discussion will touch on the importance of musician-led organizations and the impact that artists can have on the world around them both by using their platform to call for justice and by creating employment opportunities for other artists. We'll also discuss the shared history of "latin music" and "jazz," exploring the idea that these labels hide the fact that they are both part of the same musical continuum. Finally, we'll discuss the weight of legacy on our careers and our practice, and how the two are not one and the same. 
About Arturo O'Farrill (www.arturoofarrill.com)
ARTURO O'FARRILL, pianist, composer, and educator, was born in Mexico and grew up in New York City. Arturo's professional career began with the Carla Bley Band and continued as a solo performer with a wide spectrum of artists including Dizzy Gillespie, Lester Bowie, Wynton Marsalis, and Harry Belafonte.
In 2007, he founded the Afro Latin Jazz Alliance as a not-for-profit organization dedicated to the performance, education, and preservation of Afro Latin music. Learn more about ALJA here: http://www.afrolatinjazz.org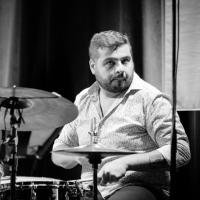 About Zack O'Farrill (www.wackzilliam.com)
Zack O'Farrill is a multi-racial, multi-cultural, multi-musical artist who doesn't believe in the walls that separate us.  Growing up in a musical household, the son of classical pianist Alison Deane and jazz pianist, composer, bandleader Arturo O'Farrill,  Zack and his brother, the trumpeter Adam O'Farrill, grew up playing and listening to a wide world of music.  From the European-concert-music-influenced Afro-Cuban big band jazz of their grandfather, Chico O'Farrill, to the tongue-in-cheek free jazz of Carla Bley, to having a rotation of the Beatles, Steely Dan, Earth Wind and Fire, and Oscar Peterson in the car on summer road trips, growing up in the hip-hop generation, and extensive study of music in the new world derived from the African Diaspora, Zack has never viewed music with any particular regard to genre.