Text by Bruce Gallanther (DMG Newsletter for April 14th, 2023)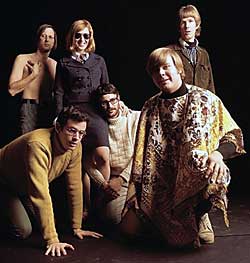 "The Garden of Earthly Delights" performed by The United States Of America, released in 1968. Written by Joseph Byrd and Dorothy Moskowitz
Poisonous gardens, lethal and sweet
Venomous blossoms
Choleric fruit, deadly to eat
Violet nightshades, innocent bloom
Omnivourous orchids
Cautiously wait, hungrily loom
You will find them in her eyes
In her eyes, in her eyes
You will find them in her eyes
In her eyes, in her eyes
Petrified willows, twisted and brown
Carrion swallows
Wait in the wet darkening room
Withering shadows, quietly grow
Potently breeding
Into a spectacular glow
You will find them in her eyes
In her eyes, in her eyes
Lemonous petals, dissident play
Tasting of ergot
Dancing by night, dying by day
Blackening mushrooms drink in the rain
Sinister nightblooms
Wilt with the dawn's welcoming pain
You will find them in her eyes
In her eyes, in her eyes
You will find them in her eyes
In her eyes, in her eyes
I remember hearing the above song on FM radio the year it was released in 1968, as well as a song called, "Hard Coming Love". Both of these songs were/are mind-blowing psychedelic epics, perfect for FM radio listening and getting stoned, something many young folks did. The title of the song comes from a painting by Hieronymus Bosch and the lyrics I am certain have to do with psychedelic mushrooms, a popular drug then.
The band, The United States of America, were from L.A. and were founded by modern classical & electronic music composer/experimenter Joseph Byrd. Although the band didn't exist very long, Mr. Byrd went on to record several other records for Columbia, Takoma and later New World Records. Their singer, Dorothy Moskowitz, also moved on to do a variety of other projects.
Ms. Moskowitz is also known for her eclectic resume: performing Indian music, backing Country Joe McDonald, singing jazz in a duo with Dick Fregulia (LP in 1978) and recently releasing an album of electronic/experimental with Tim Lucas (author) and Gary Lucas as a guest. The recent record is called The Secret Life of Love Songs and it was released in 2021. I must find a copy myself. Hey Gary!
If you are intrigued by the song and band, I urge you to find a CD reissue of this album (on Sony Legacy or Esoteric) both of which have bonus tracks & informative liner notes. What is interesting about the United States of America album is this: there was no guitar player in the band, a rarity for most psychedelic bands at that time, there is an electric violin, a ring modulator, early synths and a fretless electric bass player, super rare for any rock bands to employ in 1968.