Text by Dawoud Kringle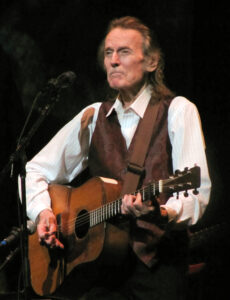 We were just beginning to recover from the news of the passing of Wayne Shorter and Harry Belafonte. Then another iconic musician is called home, reminding us of the fragility of life, and how the age many of us grew up with is drawing to a close.
Canadian singer-songwriter and guitarist Gordan Lightfoot was born November 17, 1938 in Orillia Ontario. His mother recognized Lightfoot's musical talent early on and schooled him to become a successful child performer. He appeared periodically on local Orillia radio, performed in local operettas and oratorios, and gained exposure through various Kiwanis music festivals. At the age of twelve, after winning a competition for boys whose voices had not yet changed, he made his first appearance at Massey Hall in Toronto.
As a teenager, Lightfoot performed extensively throughout high school, learned piano, and taught himself to play drums and percussion. He held concerts at a resort in Muskoka. He moved to California in 1958 to study jazz composition and orchestration for two years at Westlake College of Music in Hollywood.
After living in Los Angeles for a while, he returned to Toronto in 1960 (where he lived ever since). He performed with the Singin' Swingin' Eight, a group featured on CBC TV's Country Hoedown, and with the Gino Silvi Singers. He soon became known at Toronto folk music-oriented coffee houses. In 1962, Lightfoot released two singles, both recorded at RCA in Nashville and produced by Chet Atkins. These became local hits in Toronto and received some airplay elsewhere in Canada and the northeastern United States.
Soon his skills as a songwriter became obvious. His early songs were recorded by Peter Paul and Mary, Elvis Presley, Bob Dylan, Chad & Jeremy, Marty Robbins, Judy Collins, Richie Havens, and others.
In 1965, Lightfoot signed a management contract with Albert Grossman, and signed a recording contract with United Artists. Bolstered by appearances on The Tonight Show, at the Newport Folk Festival, and Town Hall in New York, Lightfoot's 1966 album Lightfoot! (which included many now-famous songs, including "For Lovin' Me", "Early Mornin' Rain", "Steel Rail Blues", and "Ribbon of Darkness") propelled him to fame. Lightfoot became one of the first Canadian singers to achieve definitive home-grown stardom without having moved permanently to the United States to develop it.
Lightfoot signed to Warner Bros./Reprise in 1970 and scored a major hit in the United States with "If You Could Read My Mind," which sold over one million copies by early 1971.
In June 1974 the title track from the album Sundown went to #1 on the American and Canadian charts. It would be his only number one hit in the United States.
In late November 1975, Lightfoot read about the loss of the SS Edmund Fitzgerald, which sank on November 10, 1975, on Lake Superior during a severe storm with the loss of all 29 crew members. He wrote the hit song "The Wreck of the Edmund Fitzgerald." It reached number two on the United States Billboard chart and was a number one hit in Canada. In later years, Lightfoot appeared at several memorial services of the sinking, and stayed in personal contact with the family members of the men who perished in the wreck.
"Sundown" and "The Wreck of the Edmund Fitzgerald" continue to receive heavy airplay on many classic rock stations. In 1978, Lightfoot had another top 40 hit on the United States Hot 100, a re-recorded version of "The Circle Is Small (I Can See It in Your Eyes)," which reached number 33.
During the 1980s and the 1990s, Lightfoot recorded six more original albums and a compilation for Warner Bros./Reprise. During the 1990s, Lightfoot returned to his acoustic roots and recorded two albums. Waiting for You, and 1998's A Painter Passing Through.
In 2002, health problems interrupted Lightfoot's concert schedule. He underwent emergency vascular surgery for a ruptured abdominal aortic aneurysm, and endured a six-week coma. Two years later, he returned to public performances, but in 2006 he suffered a stroke that temporarily incapacitated the middle and ring fingers on his right hand.
Lightfoot made his first tour of the United Kingdom in 35 years across England, Ireland and Scotland between May 18, 2016, and June 1, 2016.
Lightfoot also played at Canada's 150th birthday celebration on July 1, 2017 He was introduced by Prime Minister Justin Trudeau. The Prime Minister mentioned that Lightfoot had played the same stage exactly 50 years earlier, during Canada's 100th birthday.
Lightfoot died on Monday, May 1st 2023 from natural causes at the age of 84.
The purpose of the singer / songwriter is to tell the stories few have the eloquence to tell, and to preserve not only the story, but its inner essence. Lightfoot was a true master of the almost lost art of the singer / songwriter, and an object lesson for anyone who wishes to tell a story through song. So much so that it is difficult to overestimate Lightfoot's talent and contributions His songs were masterful in their conveyance of emotion, evocation of imagery, and power of storytelling. His work stands next to his peers such as Bob Dylan, Judy Collins, Richie Havens, and Joni Mitchel, while remaining uniquely his own. His legacy stands the test of time.
I must conclude with a personal observation.
As a boy growing up in Wisconsin within walking distance of Lake Michigan, I remember hearing the news of the sinking of the SS Edmund Fitzgerald. Those of us from the Great Lakes region love that song. Not only did Lightfoot capture the vibe of the Great Lakes region, but he also expressed the tragedy of that shipwreck with frightening eloquence. When he sang about "her ice water mansions," and "that good ship and crew were a bone to be chewed when the Gales of November came early" are true. In my youth, I stood on the shore of Lake Michigan while the Gales of November sent waves of icy water taller than your house smashing violently on the shores, and freezing winds threatening to knock you off your feet at every step (a precursor to the brutal winters every Wisconsinite learns to endure). And the chilling reality of lines such as "At 7pm a main hatchway caved in, he said "Fellas, it's been good to know you." and "Does anyone know where the Love of God goes, when the waves turn the minutes to hours?" touches those who have faced the possibility of a violent death at the hands of the elements in a profound way.
MFM salutes the memory of Gordon Lightfoot.