Sep
30
Sun
God's Unruly Friends

@ WoW Cafe Theater
Sep 30 @ 8:00 pm – 11:00 pm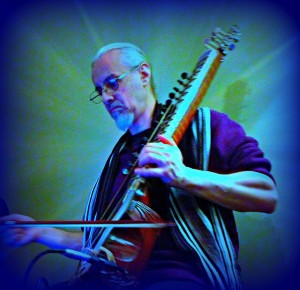 Dawoud is a multi instrumentalist, composer, improviser, and leads the Mystic Ethno-jazz Electronica ensemble God's Unruly Friends.
Their music, a blend of east and west, acoustic and electronic, modern and ancient, seeks to transcend genre. Its primary concern is the psychoactive properties of music. It is a unique and beautiful musical experience.
Preparations are underway for the next God's Unruly Friends concert! We are returning with a multimedia event, and new and unheard music in the genreless genre of Mystic world / jazz / electronica.
The concert will feature Rick Musician Rivera on percussion, Chenana Manno on vocals and dance, the Madkoi Quartet, Olga El on dance, Akaliko8 on computer art, and Dawoud the Renegade Sufi – yours truly! –  on sitar, laptop, and whatever else I can get away with.
Special guests TBA.
Oct
12
Fri
SoSaLa – 60 Minutes of Nu World Trash Chamber Music at the Greenpoint Gallery (NY)

@ Greenpoint Gallery
Oct 12 @ 9:00 pm – Oct 13 @ 10:00 am
"SoSaLa, the intercontinental collective led by Iranian saxophonist and activist Sohrab Saadat Ladjevardi. Boasting a formidable musical résumé, Ladjevardi has worked with everyone from Malian pop star Salif Keita to Ornette Coleman and Bachir Attar of Morocco's Master Musicians of Jajouka." –Bill Friskics-Warren (Washington Post)
SoSaLa is a world fusion music collective founded in New York in 2011, fronted by saxophone player, activist and world citizen Sohrab Saadat Ladjevardi, who was born of Iranian parents and has lived in Switzerland, Germany, Japan, and now New York City. The music is fueled by improvisation, diverse instrumentation, and an eclectic blend of multi-cultural rhythms and melodies. Sohrab's vocals give a dada-istic touch to social and political issues. They will play songs from their CD Nu World Trash as well as new material.
SoSaLa Performing "Sad Sake" from SoSaLa on Vimeo.
Line up: Sohrab Saadat Ladjevardi – saxophone and vocals, David Belmont – world dobro, percussion and voice, Baba Don Eaton – percussion, harmonica and vocals
Kaveh Haghtalab – kamancheh and voice and new member Greg Crotty – cello and electronics
Legendary jazz musician Billy Harper comments about a recent SoSaLa show – "I went to see the musician Sohrab Saadat Ladjevardi of SoSaLa and was totally impressed by his honesty and sincerity. It was quite refreshing to experience his concert presentation."
* Directions to the venue: take the 7 train to Vernon-Jackson and walk over the Pulawski Bridge, turning into McGuinness Blvd., the gallery is immediately on the east side at 390 McGuinness. Use the staircase, not the ramp, to save a few blocks.