Jan
17
Thu
BRM Weekly: George Crotty Trio

@ Jalopy Theatre and School of Music
Jan 17 @ 8:00 pm – 9:00 pm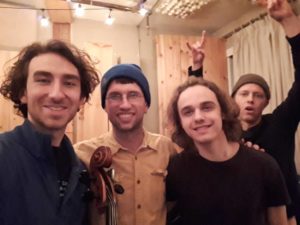 George Crotty Trio's Four String Nomad album release show
"Distinctly modern, yet also timeless. It's classical. A little jazzy. Computer literate, yet deliciously steeped in tradition. Mournful, yes, but also hopeful and upbeat." – Boston Survival Guide
An improvisatory exploration of the common ground between jazz and traditional music from Ireland, India, and more.
George Crotty, cello
John Murchison, bass
Martin Beux, drums
George Crotty is a crossover cellist hailing from Toronto, Canada. He traces his family lineage to fiddlers in County Clare, Ireland, and a family of Jewish musicians descended from Felix Mendelssohn. A recent graduate of the Berklee College of Music, Crotty aspires to forge a new linguistic path for the cello by integrating elements from Eastern, Celtic, and Jazz traditions. Recently he performed domestically and abroad with oud / violin virtuoso, Simon Shaheen, as well as American fiddle guru, Darol Anger.
He currently resides in New York City. He's also a member of NY's music collective SoSaLa and Musicians For Musicians (MFM).