Text by Sohrab Saadat Ladjevardi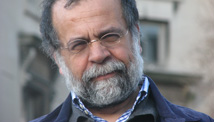 Hamid Dabashi: a professor of Iranian studies and comparative literature at Columbia University, writes frequently on politics and world affairs. This time in CNN Opinion.

This article is very well formulated. He writes: Obama must stick to his vow to "bear witness" to crackdown in Iran,  U.S. civil rights icons, Muslim leaders; human rights groups should go to Iran.