By Dawoud Kringle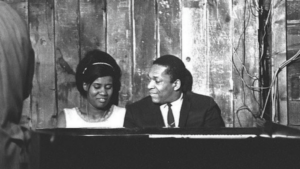 This is the second of a series of articles devoted to the women of jazz. It is a small attempt to give props and respect to an inexcusably overlooked segment of the music community (the first installment featured Emily Remler. This installment features Alice Coltrane, because there are few musicians in the history of jazz who successfully embodied the balance between music and spirituality as she did.
Born Alice McLeod in Detroit, MI in 1937 to Solon and Annie McLeod, Alice developed an interest in music in early childhood. By the age of nine, she played organ during services at Mount Olive Baptist church. She pursued music and started to perform in various clubs around Detroit, until moving to Paris in the late 1950s. By 1960, she worked as the intermission pianist at the Blue Note Jazz Club. She studied classical music, and studied jazz with Bud Powell, and also appeared on French television in a performance with Lucky Thompson, Pierre Michelot and Kenny Clarke. In the early 60's she returned to Detroit and began playing jazz with her own trio and as a duo with vibraphonist Terry Pollard.
In 1963, while playing with Terry Gibbs' quartet, she met John Coltrane. In 1965 they were married in Juárez, Mexico. John Coltrane became stepfather to Alice Coltrane's daughter Michelle, and the couple had three children together: John Jr. (b. 1964: bassist who died in a car accident in 1982); Ravi (saxophonist b. 1965); and Oranyan (b. 1967, a DJ who'd played saxophone with Santana).