Opened in NYC at the IFC Center on June 25th
Opens in Los Angeles at the Laemmle Music Hall July 4th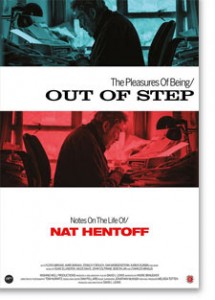 The Pleasures of Being Out of Step: Notes on the Life of Nat Hentoff profiles legendary jazz writer, journalist, and civil libertarian Nat Hentoff, whose career has coincided with the greatest artistic, cultural, and political movements of the last 65 years. Any account of Nat's career would not be complete without chronicling his determined efforts to promote and support freedom of expression. Narrated by actor Andre Braugher, Pleasures of Being Out of Step wraps the themes of liberty and identity around a historical narrative that stretches from the Great Depression to the Patriot Act.
Prolific and incendiary, Nat Hentoff is the author of twenty nonfiction books, nine novels, and two memoirs. His writing has been published in Down Beat, The Village Voice, The New Yorker, Jazz Times, The New York Times, The Washington Post, Playboy, Esquire, The Atlantic, The Progressive, and The New Republic.