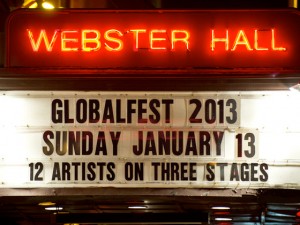 Date: January 13, 2013
Venue: Webster Hall (NY)
Text by Dawoud Kringle
On Sunday,. January 13, 2013, globalFest 2013, a non-profit organization presented a festival of 12 artists within one night at New York City's famed Webster Hall. This Herculean effort brought an amazing variety of artists from around the world. It was, with the overlapping scheduled performances, impossible to catch everyone. But for the loyal readers of DooBeeDooBeeDoo, I put every effort in covering what I could.