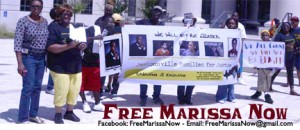 Court Upholds Marissa Alexander's Bond Release;
Activists Call for Angela Corey to Stop Harassment
Today, the court upheld Marissa Alexander's bond release, which means she is allowed to continue her house arrest and remain with her children and family until her new trial begins on March 31st.  State Prosecutor Angela Corey filed a motion alleging that Marissa Alexander broke the conditions of her release by making unauthorized trips outside her home. Yet, Alexander's legalteam presented proof that the Correctional Service Counselor who supervised Alexander's house arrest authorized every trip listed in the State's motion and the Counselor asserts that Alexander is not in violation of her release.