Review by Dawoud Kringle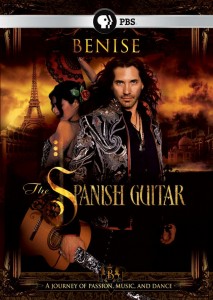 A few years back, PBS aired a production of Benise: The Spanish Guitar as part of a fundraiser. The production was released as a DVD. Described in concert reviews as "The Latin River Dance," this promised to be a monumental artistic statement in the Spanish guitar tradition, and beyond.
After a careful viewing, its real merits are obvious. The production is well paced, the musicians and dancers were spot on professionals, well rehearsed, and the production values are very well done.
But the whole thing leaves me with a profound sense of betrayal. Benise and his desperately needed plethora of musicians, dancers, elaborate stage sets, and CGI all conspire to evoke well planned emotional responses from audiences of limited taste and musical sensitivity – all with a meticulously choreographed technical perfection that is insincere and mechanical. It is, in fact, for those who have more musical sensitivity than the type whose idea of fine Mexican cuisine is an evening at Taco Bell, an insult to one's intelligence.