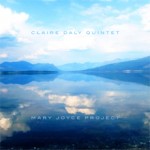 Artist: Claire Daly Quintet
Title: Mary Joyce Project: Nothing To Lose
Label: Daly Bread Rec
Genre: Jazz
Reviewed by Jeremy Siskind
Woodwind artist Clare Daly's concept album, The Mary Joyce Project: Nothing To Lose, based on the inspiring arctic-exploring biography of Daly's father's first cousin, is conceived and performed with palpable sincerity and warmth. The music consists mainly of vamp and riff-based tunes for jazz quartet augmented by beat-boxer Napoleon Maddox, whose breathy sounds somehow recall the arctic vastness of Joyce's journeying; in addition, many of the pieces utilize an American Indian-style pentatonicism to set the mood, even including some chanting and sled-dog yipping. The record is highlighted by the purring warmth of Daly's baritone saxophone sound (she also plays some flute), readings of some of Joyce's journal entries over vamps, and very solid rhythm section work by Mary Ann McSweeney and drummer Peter Grant.