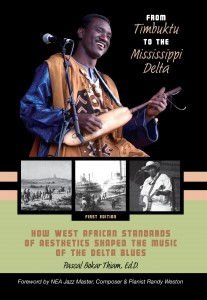 Author: Pascal Bokar Thiam, Ed.D.
Title: From Timbuktu to the Mississippi Delta: How West African Standards of Aesthetics Shaped the Music of the Delta Blues (Revised First Edition)
Paperback ISBN: 978-1-63487-105-1, 154 pages
©2015
The Music is so varied that we still have no real idea what African music is.
I do know this, though: When an African touches an instrument, whether that African is an extension like Louis Armstrong or a master healer from Morocco or Mississippi, that instrument becomes an African instrument.