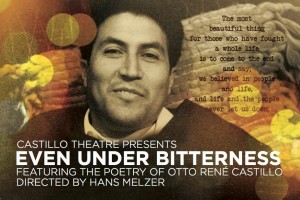 Castillo Theatre is proud to present the American premiere of Even Under Bitterness being directed by the Munich-based theatre artist, Hans Melzer. Even Under Bitterness is an avant-garde, multi-media performance made up of poems written by our namesake, the Guatemalan poet and activist, Otto René Castillo.
We at Castillo Theatre have long wanted to create a performance piece using Otto René Castillo's poems so when Melzer reached out to us with a show he had been touring throughout Europe we were thrilled. Obviously Castillo's poems and life have been inspirational to us here. His poems are passionate, sometimes sad, often outraged by poverty and injustice. Our work is an attempt to answer the question raised in Castillo's "Apolitical Intellectuals": What did you do when the poor suffered?"
Even Under Bitterness will be performed in English and German featuring German actress, Gabi Heller, and two Castillo actresses: Madelyn Chapman and Olivia Luna. The poems will be accompanied by improvised live music along with video projections.