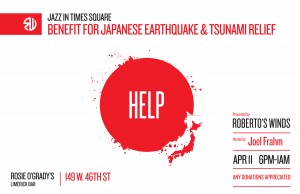 Date: Monday, April 11, 2011
Time: 6pm – 2:00am
Venue: Rosie O'Grady's Limerick Bar (149 W 46th Street, New York, NY)
Roberto's Winds and Michiko Studios presents a benefit concert for Japan, with help from DooBeeDooBeeDoo and others. 100% of the proceeds will be go to the Coltrane House of Osaka.The Coltrane House Of Osaka is establishing a fund which will help musicians and musical institutions which have been affected by the disaster. Yasuhiro Fujioka, the president of the Coltrane House, is a prominent figure in the Japanese jazz community and has a long affiliation with Roberto Romeo, owner of Roberto's Winds and Michiko Studios.
Here is Roberto himself speaking about his event