Text by Dawoud Kringle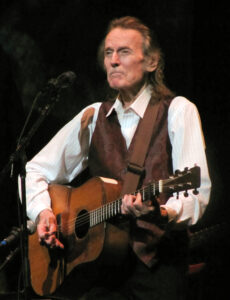 We were just beginning to recover from the news of the passing of Wayne Shorter and Harry Belafonte. Then another iconic musician is called home, reminding us of the fragility of life, and how the age many of us grew up with is drawing to a close.
Canadian singer-songwriter and guitarist Gordan Lightfoot was born November 17, 1938 in Orillia Ontario. His mother recognized Lightfoot's musical talent early on and schooled him to become a successful child performer. He appeared periodically on local Orillia radio, performed in local operettas and oratorios, and gained exposure through various Kiwanis music festivals. At the age of twelve, after winning a competition for boys whose voices had not yet changed, he made his first appearance at Massey Hall in Toronto.
As a teenager, Lightfoot performed extensively throughout high school, learned piano, and taught himself to play drums and percussion. He held concerts at a resort in Muskoka. He moved to California in 1958 to study jazz composition and orchestration for two years at Westlake College of Music in Hollywood.