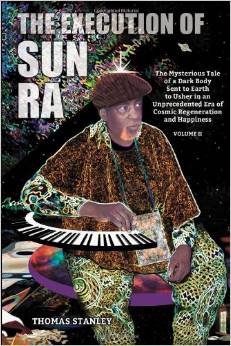 Author: Thomas Stanley
Title: The Execution of Sun Ra: The Mysterious Tale of a Dark Body Sent to Earth to Usher in an Unprecedented Era of Cosmic Regeneration and Happiness (Volume II)
Format: Paperback
Publisher:  Wasteland Press (April 18, 2014)
Buy book here: http://www.amazon.com/The-Execution-Sun-Unprecedented-Regeneration/dp/1600479979
About the book: The Execution of Sun Ra is a 6 x 9″, 242-page paperback with b&w images by William Brower, Leon Collins, Yusef Jones, Lee Santa, Paula Stanley, Charles Steck, and Michael Wilderman. The cover illustration was done by Erica Fallin and the book design by Al Morrow. Author and cyberpunk theorist Kirby Malone provided editing. Kifah Foutah provided editorial assistance.
Review by Richard Bennett