Date: Friday, October 29, 2010
Venue: Town Hall
Text and photos by: Veronique Lerebours (HarmoNYom)
"DazzlingZakir Hussain on tabla and virtuoso Niladri Kumar on sitar delivered to the New Yorkers an incredible and astonishing performance. That was nothing short of majestic to mesmerize the bursting audience! The charisma of both artists, the geniality and creativity of their agile fingers flirting with their respective instruments and the brilliant combination of two gifted maestros where all there!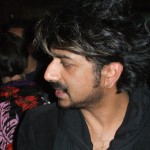 Date: Thursday, October 7, 2010
Venue: Highline Ballroom (NY)
Photo: Sohrab Saadat Ladjevardi