ALJO…The Power of Activism and Jazz: Resisting an Oppressive National Political Culture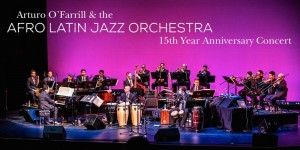 On Wednesday May 9, Arturo O'Farrill and the Afro Latin Jazz Orchestra kicked off a special five-city tour of California celebrating the power of activism and jazz in resistance to the oppressive national political culture currently taking shape in America..
Arturo O'Farrill and ALJO invited diverse communities throughout California to partake in their revolutionary musical movement propelled by the orchestra's fiery big band compositions. Beginning on May 9, Stanford Live presented the West Coast debut of O'Farrill's The Cornel West Concerto at Stanford University featuring Dr. Cornel West alongside ALJO. On May 12, O'Farrill headlined Radio-Active Resistance: A Benefit for KPFA FM and DACA Support Services with opening acts Bobi Céspedes Band and the Son Jarocho All Stars at UC Theatre in Berkeley, CA. Additional ALJO performances included concerts at Mondavi Center for the Performing Arts (May 11), UC Santa Barbara Arts & Lectures @ Campbell Hall (May 17), and a rare Afro Latin Jazz Ensemble (octet) performance at Bach Dynamite & Dancing Society in Half Moon Bay (May 13).  ALJO concluded its California tour with a live recording on the San Diego – Tijuana border on location at the Fandango Fronterizo Festival, joining together with noted Son Jarocho artists from Veracruz, México, and other special guest artists drawing from various countries and musical genres.