Thirty (Year) Rock: How the Black Rock Coalition Keeps Process Alive, Nurtures a Vivid Scene
For 30 years, the Black Rock Coalition has proved that Black musicians have a central, vital role to play in shaping edgy, righteous, driving rock. Remembering the untold numbers of Black musicians who made rock what it is, while nurturing a scene, the volunteer-powered organization insists on the slow build of process, of people interacting in the flesh, in the face of major tectonic shifts in society and music.
"Everything comes down to the process. There's a process to everything under the sun. Nothing we see on the surface, for a lot of artists, is the whole," explains Darrell McNeill, BRC-NY Director of Operations. "The body of work goes way deeper. That's what sets us apart. After thirty years, we know there's a process. You have to go work out your thing to make it presentable. You can't automatically jump from A to Z. You have to be patient enough. That's what the people we support do."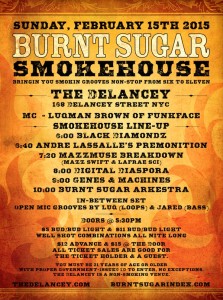 Date: February 15, 2015
Venue: The Delancy
Review by Dawoud Kringle
On the coldest night of 2015, musicians and listeners crowded into the blessedly heated basement if the Lower East Side's Delancy. Burnt Sugar Smoke­house (in solidarity with the Black Rock Coalition) presented a night of NYC's finest funk rock.