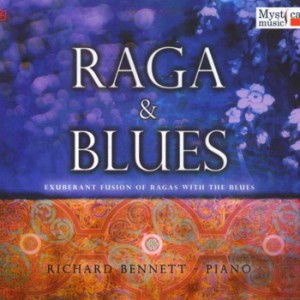 Artist: Richard Bennet
Title: Raga & Blues
Label: Mystica Music (India)
Genre: Raga blues?
Review by Dawoud Kringle
The CD begins with a tambura and sparse notes on piano that introduce an alap in Raga Malkauns. This gradually opens up into a rolling swarm of notes somewhat reminiscent of Michael Harrison's piano work. Above this thick tapestry, melodies would appear and disappear. Occasional suggestions of a teehai would rise.