Tag Archives:
Omara Portuondo
1. Natacha Atlas w/ Gaida: Levantine Indulgence
Date:  Monday, November 8, 2010
Time: 8pm
Venue: Le Poisson Rouge (158 Bleecker Street, New York, NY 10012, ph: 212- 505-3474) 
Ticket: $30
Genre: Arabic pop
Musically and geographically, Natacha Atlas has always been an itinerant. The Anglo-Egyptian singer has spent more than a decade fusing electronic beats with North African and Arabic music, finding links between seemingly disparate musical genres, exploring new and different sonic settings and working with a wealth of like-minded collaborators from across the world along the way. The resulting body of work is both a triumph of true multiculturalism and a testament to the richness and accessibility of Arabic culture.
About Gaida read more—————————————————————- Continue reading →
1.Linebreak: Poetics of Iran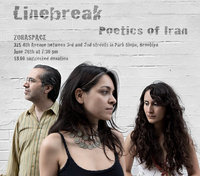 Date: Saturday, June 26, 2010
Time:7:30pm
Venue: Zora Art Space (315 4th Avenue between 3rd and 2nd streets in Park Slope, Brooklyn)
Ticket: $8 (donation)
Genre: Iranian poetry and music
Presenting a sampling of Persian poets, such as Jalāl ad-Dīn Muḥammad Balkhī, Baba Taher, Shams e Maghrebi, and Mohammad-Reza Shafiei Kadkani, among others, through spoken word and music.
Performing members are: Sara Goudarzi (vocal & poetry)
Aida Shahghasemi (vocal & Daf)
Sinan Gündoğdu (Saz & Oud)