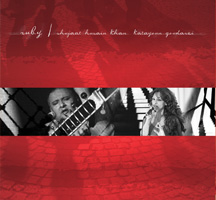 Artist: Shujaat Husain Khan & Katayoun Goudarzi
Title: Ruby
Label:  Shujaat Husain Khan
Genre:  Indian Classical/Persian poetry
As natural as breathing or walking. That's the musical marriage between Iranian-born vocalist Katayoun Goudarzi and Grammy-nominated sitar player Shujaat Husain Khan. And it's also a perfect description of the affinity they both have for the work of the great Persian poet, Rumi. Just how natural is evident on Ruby (released November 6, 2015), the pair's fifth exploration of the deep beauty of Rumi's words.